$800 Mon - Fri | Up to 16 people can fly on this package.

The Private Group Package includes:
Full training with one of our qualified instructors - you don't need any experience to fly!

Private flight session to include 30 minute flight session to be shared between a maximum of 16 people (minimum 2 flights each)

With fewer people in the group, each person just get more flight time to work on their skills!

Flight suit, helmet and goggles

Video footage of your whole group flying to take home on USB

Exclusive use of function room for no additional charge for meetings, parties and any other events

If you have more than 16 people in your group, you can book back-to-back private sessions and fly in 2 or more groups.

Book now, pay later! (full payment required 1 week before you fly)

Need a booking within 1 week, or need more info? - 1300 366 364 or info.gc@ifly.com.au
Elevate your work event or celebrate your special occasion with a touch of adrenaline!

A group package at iFLY Indoor Skydiving is a great way to bring people of all abilities and backgrounds together. You will not be able to stop laughing and smiling as you watch each other overcome your initial fears and premonitions, take to the air with ease, and experience what flying in free fall feels like.
Whether you're an office team that works together or a squad that plays and parties together - Now you can fly together!
This exclusive private group package will give all of you a taste of what it feels like to fly your body when you jump from a plane. But without the need for a plane.
This package includes an exclusive 30 minute flight session as well as a personal instructor for training, gear-up and the flight session itself.
That's enough time to give up to 16 people a great introduction to Indoor Skydiving with 2 flights each. If there are less people in the group, that just means more flying time for everyone to work on their flying skills.
It will also include the use of our function room, and all the video footage from the flight session that comes on a USB for your group to take away with them.
Whether you're 3 or 103, Indoor Skydiving is both an exhilarating experience and a highly addictive sport. It is safe for kids, challenging for adults, exciting for teens and realistic for skydivers.
The state-of-the-art, fully-controlled, ultra-safe environment makes indoor skydiving accessible for people of any ability.

There's no parachute, no jumping, and nothing attaching you to planet Earth! You simply lean into the wind inside our giant glass tunnel and a column of air lifts you up and you'll float effortlessly into flight, guided by our qualified instructors. You will then fly your body just like a skydiver would after jumping out of a plane.
It's just you and the air...and an incredible adrenaline rush..
This package is bookable on a request basis. You will be receive a confirmation as soon as possible.
Full payment will be required 7 days before you have booked to fly with us.
Photo Gallery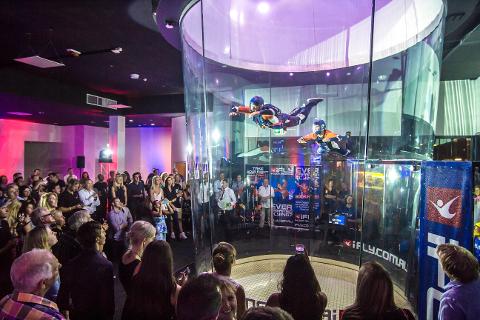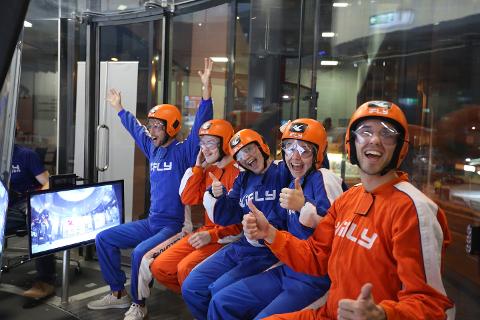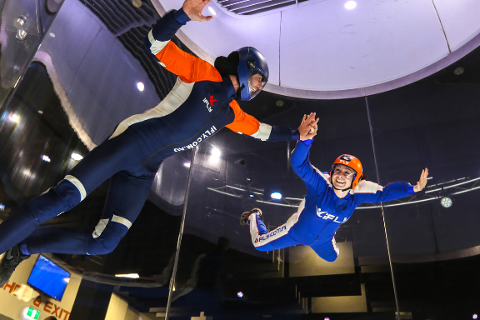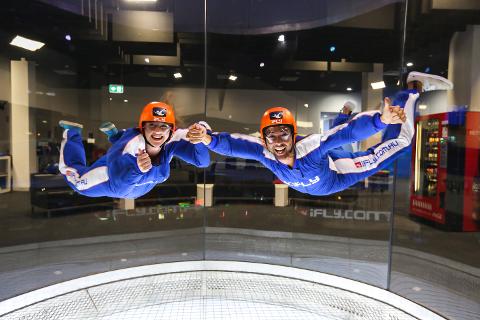 Location
3084 Surfers Paradise Blvd - Nearest Car Park is Bruce Bishop on Gold Coast Highway , Surfers Paradise QLD
Get Directions
Terms and Conditions
Who Can Fly: • 3 years old and above • Not Pregnant • Not under the influence of alcohol or non-prescription drugs • Under 105kg if under 180cm, under 115kg if over 180cm* • Not wearing a hard plaster cast • Does not suffer from any neck, back or heart conditions • Has not previously suffered from a dislocated a shoulder • Has signed our Statement of Risk waiver form • Anyone under 18 must be accompanied by an adult Management reserves the right to refuse service to anyone at any time. Please arrive 1 hour before your flight time *Flyers over our standard weight limit but under 135kg may fly provided an experienced instructor is available to take the flight. The experienced instructor must be requested at least 7 days prior to the flight date and will incur a $30 'special request' add-on. The iFLY High package or add-on is not available to those over our standard weight limit. All other terms and conditions continue to apply. Accessibility: We pride ourselves on being able to fly those with physical and/or psychological disabilities and understand that each case is unique. Please call us on 1300 366 364 to discuss your individual access requirements prior to booking so we can be prepared to make your dreams of flight come true.